Summer Blogging
Just returned from a wet week and a half at the cottage. I did manage to use the time wisely to finish the "Nine Months of Knitting" printed proposal and get it mailed off to my agent, Marlene. Now the waiting game.
I also discovered a book series by Laurie King and bought "The Beekeeper's Apprentice" from my favorite cottage book shop, Parry Sound Books (http://www.parrysoundbooks.com). If you liked Sherlock Holmes, you will love these new stories, with his new friend and apprentice, the young Mary Russell. Fantastic storytelling by Laurie King (http://www.laurierking.com) Can't wait to read more!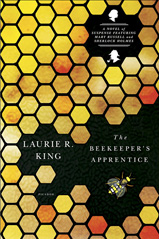 As for knitting, I am working out the patterns of Nine Months, but yearning to crochet!
As to more links, just clicked upon Purl Soho's The Purl Bee (http://www.purlbee.com/) and Alicia Paulson (http://aliciapaulson.com/, both of which all crafters will enjoy.
Posted by purlprincess at 10:02 AM EDT
Updated: Wednesday, 8 July 2009 10:05 AM EDT